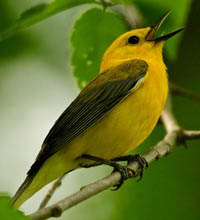 This years date is: Friday May 15th, 2015
Breakfast: Perkins in Hastings, MN one block south of the 61 and 55 intersection.
Time: 5:00 a.m. for breakfast (Don't let this scare you. You can join us anytime during the day. Just follow the route, and you will be able to find us.)
Dear Friends,
Warbler Day is a tradition that started over 30 years ago with a few birding friends. We soon learned that it was important to bring anyone along that was interested in a connection to nature in this interesting and exciting way. We are beginning to understand that birds are indeed the canaries in the coal mine, by paying attention to bird numbers through Citizen Science, scientists can make thoughtful and difficult decisions concerning the health of our planet.
You need not know anything about birds, just bring along what you have and interact with our friendly group.
PLEASE LET ME KNOW IF YOU WANT TO BE SEATED FOR BREAKFAST, AND I WILL BE ABLE TO ALERT PERKINS ABOUT THE NUMBER OF BIRDERS THAT WILL BE DESCENDING UPON THEM.
If you don't want to rise and shine, find us along the route that is noted below. No need to RSVP.
I will be traveling for most of may, but will be checking emails, so if you would like to RSVP for breakfast I will be able to take care of the reservations for breakfast.
With such strange weather again this spring who knows what we will see on the 15th. I think we can be assured of a few surprises and a good list of old friends.
My best to you, David Astin
Link for Route Map:
Directions for the route and activities are found below: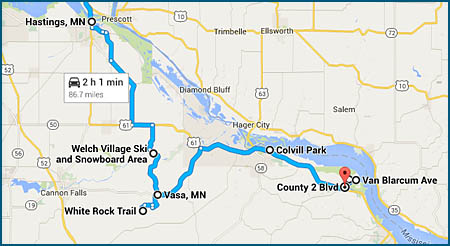 We will leave Perkins at 6:00 a.m. and travel South on Highway 61. take the Meisville bypass and turn left out of Hastings on 316 which will again intersect H.61. Turn left onto 61 from the bypass and follow the signage to Welch Village Ski area. The right turn will be onto county 7. There will be a brown sign for the Welch Village Ski Area, and there is a country church on the corner. We will follow County 7 into Welch, across the bridge and eventually stop a few miles down the road for some upland warbler viewing, the only place that we will be viewing some of the warblers from above. Pass through Vasa, MN and intersect with Highway 19 that connects Red Wing with Cannon Falls. Turn Right onto H.19 and go downhill and across a small bridge (over Bell's Creek.) Turn Left onto White Rock Trail go to the bottom of the hill and turn left into the parking lot. We will bird in this historic MN. birding site for most of the morning letting the bird diversity dictate our departure.
We will then head back up the White Rock Trail, turn right on H. 19 and go into Red Wing, MN. It has been our custom to grab something in the fast food venue, and take it this year to Colvill Park where you will find parking, picnic tables a perhaps an eagle or two.
Take Highway 61 South and follow the signage to Frontenac State Park. ( A Left turn onto County 2 Blvd. We are now entering Old Frontenac and will turn right on Van Blarcum Ave.
Keep on Van Blarcum until you see the Cemetary on your right. Park in or near the cemetary. Turn right out of the cemetary until you intersect with Wood Ave turn right on Wood and it will intersect with County 2 Blvd. again. Turn right in less then a mile you will pass Villa Maria Retreat Center. Cross the bridge on Sand Creek and safely park. Last stop is in the Sandy Point parking lot, an old wayside on old 61. From this access point we can walk the Sandy Point trails. This can be a wet space so boots of the dry variety might be helpful.
If you go...
1. Let David know if you are going to eat breakfast with us at Perkins in Hastings email: sdastin@comcast.net Phone: 763-529-4342
2. Invite your friends. This trip is for ANYONE wanting to see warblers, chat about the world, and eat what you love to eat. There is no cost except for your food and petrol.
Everyone is welcome! Call or email for more information. I will make every attempt to find a car pool that meets the time that you would like to join us for this birding event.
Please forward website post to friends that have joined us in the past as well so that the coverage includes all past attendees Thanks for your help.
David Astin
Learning to See Nature
763-529-4342
Nature@DavidAstinGallery.com
DavidAstinGallery.com